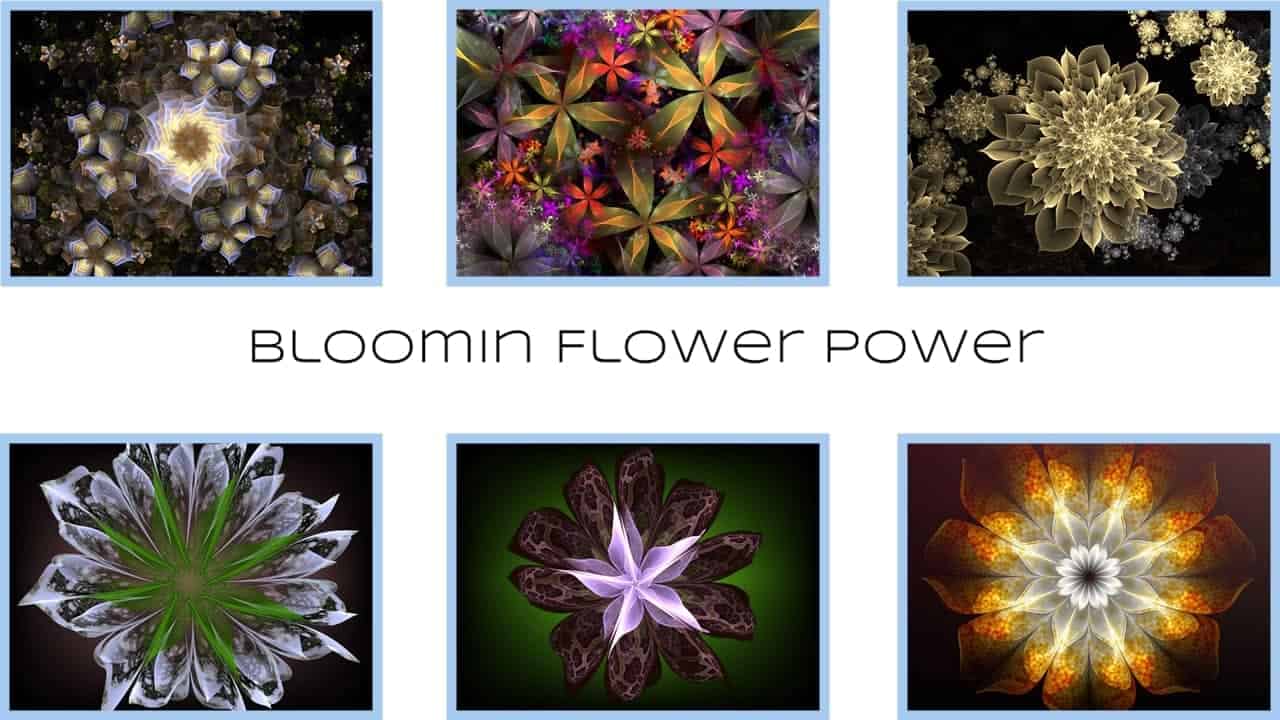 Version
Download

330

File Size

2.23 MB

File Count

1

Create Date

April 3, 2019

Last Updated

October 26, 2021
Bloomin Flower Power - Fractal Flowers and Blooms
This is the new version of the previous set of scripts which were called Debs Bloomers and Michaels Flower power , they've been tweaked and a whole new section added which gives the Flower generators a new lease of life with glorious colour schemes, thanks to Jesus Sosa's superb new DC variations.
Now, let's get this out of the way the new Flower Gen section flowers are SLOW to render, because there's some highly complex maths involved in their colouring. The good news is that (he says) they look out of this world. I hope you agree, so be prepared for LONG render times with these. The rest of the scripts should render a lot more quickly.
Please see the notes in the new folder for more information. They are for the RC version of JWildfire ONLY. Running them on a previous version will pop up a message saying you need to upgrade your JWildfire. Please, under no circumstances contact the software author about any issues relating to these scripts, contact me (Michael Bourne) or Mi Mi, via the JWildfire Sanctuary Facebook group.
Mi Mi herself has been very busy indeed designing a whole range of new flowers for the SUB section, which reads in flame files (her flowers) and my scripts will display them in various patterns.
The scripts contain all the other scripts from the previous incarnation too, so there's a whole ton of scripts to play with. If you don't like the look of what's generated, hit RUN again to get something different.
Big thanks to Mi Mi for all her help with her Bloomers 😀 and a huge thanks to Jesus Sosa for his way cool variations. I'd also like to thank Missy Gainer for her contribution to the Flower Gen scripts, she's got one in there called with a difference. I've tweaked that too for the new colour variations.
These scripts have taken a very long time to compile, so I hope you like them and PLEASE PLEASE link back to this page when you show what you've made with them. It's only fair on me and fair on other users who would like to give these a try. Also please try and tag myself or MiMi as we're so excited to see what you come up with. Remember all these scripts are starting points for your own tweaks and experiments. Try not to just generate something and post it without adding your own touch.
You can add your own flowers to the scripts to see what results you get!! (click for details)
I think I've covered everything, please see below a small sample of the possibilities of these scripts, most were generated by Mi Mi.
(scroll way past the images for the download button and you'll probably need to be logged in too)
Oh and if you need help installing scripts, please check out this page
Michael Bourne
*It came to our attention that a tiny amount of  flames (5 out of 170) in the subflame folder were tweaks of Amorina Ashton's public flame code on DeviantArt,  they were added by mistake, they have been COMPLETELY removed from the package*.
Attached Files
| File | Action |
| --- | --- |
| Bloomin-Flower-Power-v1.1.zip | Download |