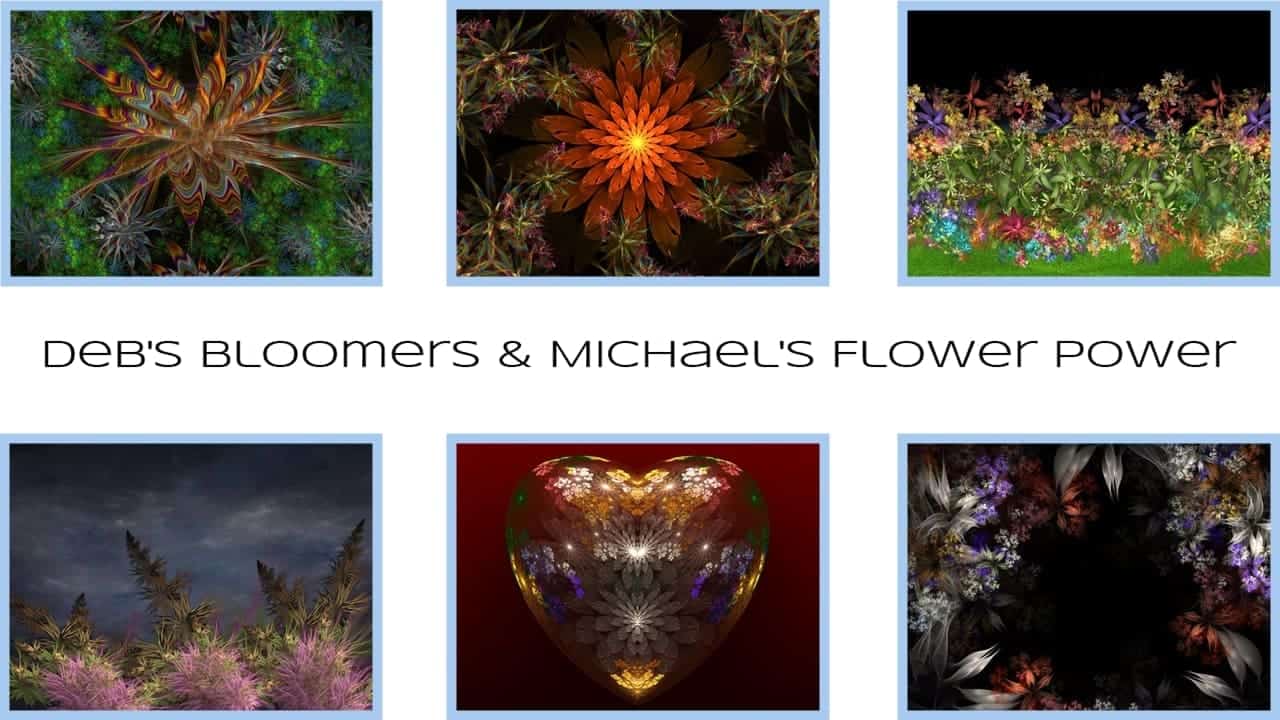 Version
Download

352

File Size

1.52 MB

File Count

1

Create Date

February 11, 2019

Last Updated

September 27, 2021
Debs Bloomers and Michaels Flower Power
Debs Bloomers and Michael's Flower Power
DO NOT USE IMPORT ZIP FACILITY TO INSTALL THESE!
See instructions here on how to manually install scripts, the folder structures need to be kept intact or it will mess up.
These are a fairly large selection of scripts, initially using Mi Mi's excellent flames to create foliage, blooms, hedges and the like. A lot of  experimentation and scripting went into them all. Then I discovered what Perlin can do, and a whole bunch(!) more scripts came out as a result. In all honesty, a fair few are similar, with minor tweaks just to save the hassle of a lot of random experimentation. That's not to say don't experiment, my god! That's what these are here for.
There are three folders in these scripts, let me explain what they contain.
Firstly 0bloomers Sub

Now pay attention, these scripts read in any flames that are put into this folder and try and make nice designs from them. So, you're going to want to create some flower flames and save the flame files in this folder. When you run the scripts also in this folder they'll use what you've created as well as the dozens of nice ones that Mi Mi and myself have created.
Sometimes they'll look bad, but mostly you should get something very nice indeed. You can use the Flower Generators (mentioned below) to make flames to save into this folder too. You can add as many flames into here as you like, and it will randomly pick one. Thanks to Jesus Sosa for helping me get this set up with his routine to read in flames into a subflame.
You can put other non flower flames in there as well if you're weird, or you just want to see if something good will happen.
Valentine Bonus!
Because it's almost Valentine's day, and because I love you all (I think) there's a couple of scripts with heart in their name, that will generate a nice heart with flowers inside, which I hope you like.
Secondly 0Flower Generators
Yes, I did get carried away here. These scripts generate lots of nice looking flora that you can play about with, if it were me, once you've run the script and it's made a flower that you've tweaked, then..
1) Copy to clipboard.
2) Create a new flame, then add a subflame as your first transform.
3) Click the gear icon on the subflame variation and paste in from Step 1.
4) Go mad with new transforms and final.
If that sounds like a lot of gibberish to you, you can always save your flower flame into the 0bloomers Sub folder and it will get picked (!) at random with the scripts there.
Please, tweak these generated flowers to your hearts content and we want to see them all at the Sanctuary Facebook group, or the Sanctuary website, or anywhere else you fancy. But please put a link to the scripts so that others can also create their flowers and if you know either of us, TAG ! that way we can find what you've done and it will make us happy.
Thirdly 0Perlin Fields
Highly experimental and in the early stages. Just wanted to create the look of a meadow or a field for you to experiment with. Heck I even included a script that puts a picture of the sky behind them. Some think this is going to far, that it just creates all your fractal for you. Well, no, because you can use that as a background for another fractal, or you can tweak and turn it anyway you want. May develop these fields further, but am exhausted with all these scripts.
Fourthly 1Backgrounds
Some scripts to give you leaves, ferns, grass etc to play with. Render these out and use them as the image backgrounds for your flowers if you so wish. Go to the colouring tab and choose Select Image and load in the rendered fern, leaf, or whatever. Make sure that FG opacity is set to 0 on the colouring tab, or your flowers might look transparent against the image background.
---
Well, that's the majority of the scripts, the rest are just random things, or Perlins.
Any questions, just ask in the Sanctuary Facebook group, or on the website. I'll do my best to answer as soon as I see it.
I don't expect this will be the last version of these scripts, they'll no doubt get updated at some point, so if they're rough round the edges then that's just the deal.
I'd like to thank Mi Mi for her excellent flames, her great friendship and support (check out our other script projects). I'd now like to thank Missy Gainer for her Flower Gen which has been added to the Flower Gen folder.  I'd like to thank Jesus Sosa, Rick Sidwell, Peggi Wolfe (for her great collages and testing) and everyone at the Sanctuary Facebook group. Andreas Maschke, because without JWildfire, this text would mean nothing and we'd have no JWildfire. PLEASE consider donating something to him, the software costs nothing and gives so much pleasure to so many people.
Please remember also to credit these scripts, and put a link to their location on the website if you use them, and always tweak before you post images. Don't just post what gets rendered that just makes us look cool and not you.
Links.
Michael Bourne Feb 2019
*It appears one flame (out of about 90) was included in the subflame folder that was a tweak of Amorina Ashtons public Deviant Art flame, this was added by mistake and has now been removed from the pack*
Attached Files
| File | Action |
| --- | --- |
| DebsBloomersMichaelsFlowerPower1_2.zip | Download |