This is for my friend Lea, and anyone else wants to have a bit of fun. There's a flame here to copy/paste into your JWildfire, tweaking the settings shown will give you different shapes and dimensions to play around with. Also there's some pointers on making it reflect the background a little to give it a new spaceship shiny look.
Ok first copy the flame, and paste it into JWildfire (copy then click From Clipboard for those not familiar with that).
The flame
Ok, once you have copied the flame these are some of the settings that can be adjusted first the Parplot Preset ID which changes the shape between 1 and 48 different presets. Also you can play with the umin, umax, vmin and vmax to stretch or shrink parts of it.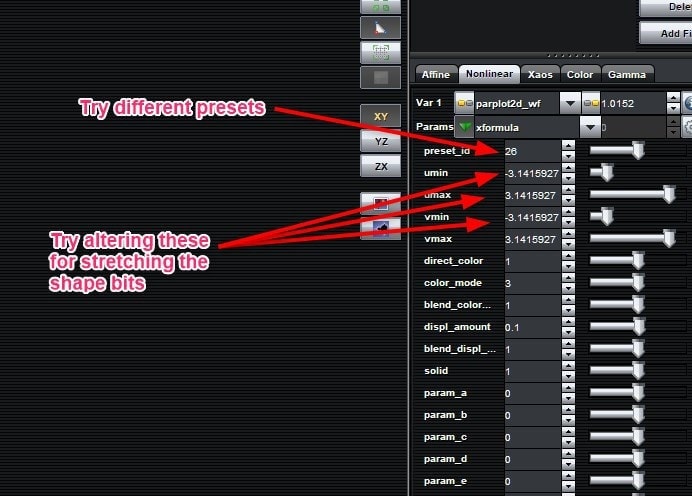 After that you might want to move it around a bit, so you can alter the post rotate x, post rotate y and the post zscale etc, these are all underneath the parplot variation.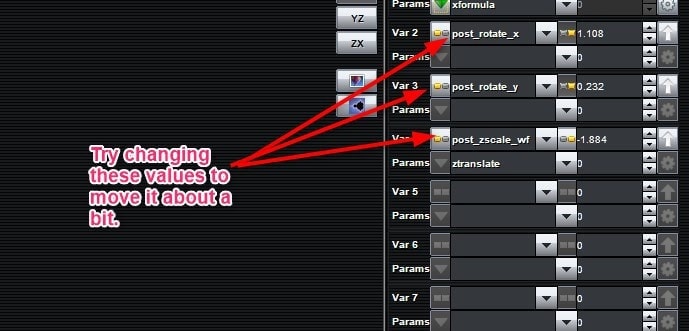 Next you might want to make the spaceship reflect the background here's how to do that. Please note you might have to first invert your background or reflect it in another package before you add it here. Try different ways. So you'd click 3D rendering, then Material settings, then select image next to the reflection map.

And lastly because usually it looks too bright, take down the ambient level and the diffuse levels, until you think it looks right.